Thanks for printing! Don't forget to come back to Zerorez Carpet & Upholstery Cleaning for fresh content!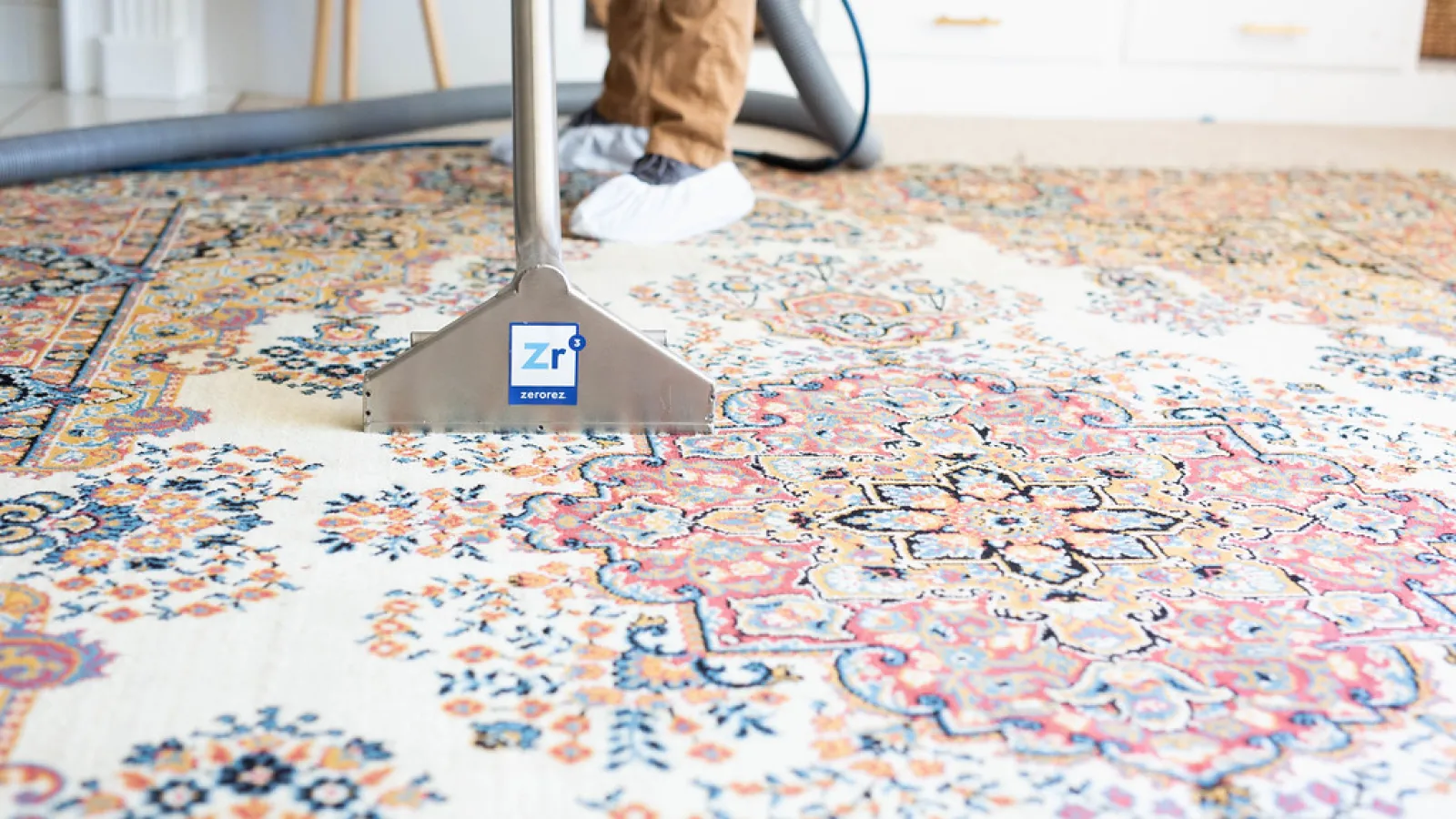 Oriental & Area Rug Cleaning
Just like your carpet, your rugs are magnets for dirt, pet dander, odors and germs. Fine oriental and specialty rugs require special care, and Zerorez® does the job right. We understand the origins and construction of high-quality rugs. We also believe that hassle should never be a barrier to cleanliness, so Zerorez® offers home pickup and return delivery on every rug cleaning.
ZEROREZ® Proudly Offers:
Area Rug Cleaning

Deodorizing and Sanitizing

Stain Removal

Pet Urine & Odor Removal

Stain Protection
The only choice for a true clean that lasts longer.
We Treat Your Rugs with Care
1. Inspection
Our Master Rug Technician will carefully inspect your rug, looking for spots or stains and for any needed repairs before they begin cleaning your rug.
2. Dust Removal
The Zerorez® rug washing plant is equipped with a rug duster that uses compressed air and gently taps to remove dry soil, dust, sand and grit. This careful method of dust removal puts less strain on the fibers in the rug -- it's more gentle and more effective than shaking or beating the rug.
3. Washing
Your rug will be placed in the 1,200-gallon rug washing tank, filled with Zerorez's® patented Zr Clean™️. The star paddle gently agitates the water to lift away the dirt without brushing or scrubbing the rug.
4. Rinsing
The rug is placed in a specially constructed centrifuge where it will be rinsed with cool water and then dried through the power of the 900 rpm centrifuge. The spin-dry process reduces problems like dye run and shrinkage. The rug emerges from the centrifuge just damp to the touch.

5. Protective Barrier
If the customer choses, the rug can be groomed, detailed and sprayed with an environmentally friendly protector. Then the rug will be carefully hung to finish drying completely.
6. Final Inspection
After the rug is thoroughly dry, our Master Rug Technician will inspect it again. Then the rug will be rolled and bound for delivery back to your home.
Watch Our Oriental Rug Cleaning Process
Preserve and Protect
The Zerorez® rug cleaning process is certified Platinum by the Carpet & Rug Institute. We treat the delicate fibers of fine pieces with care. We only use products that are gentle on your rugs and safe for the people and pets in your home—plus our products are environmentally friendly. We provide a clean that restores the brilliant colors of area rugs and protects them from future damage.