Thanks for printing! Don't forget to come back to Zerorez Carpet & Upholstery Cleaning for fresh content!

Commercial Services
CDC Advises "Cleaning of visibly dirty surfaces followed by disinfection is a best practice measure for prevention of COVID-19 and other viral respiratory illnesses in household and community settings."

It is our goal to provide you with affordable solutions to maintaining the carpets at your place of business. Whether it's a one time cleaning or a maintenance package, we have the solution to your needs. We use our patented Zr process™ which includes Zr Clean™️ to address deep cleaning solutions and quick touch-ups.
Professional Commercial Cleaning Services
As a professional, you know that few things will turn your customers away faster than an unclean environment. It doesn't matter if you are managing apartments or the CEO of a bank; professionalism is reflected in how clean commercial properties are! As a professional landlord or CEO for any company, it is important that customers feel comfortable and safe when they visit one of your properties, which means everything from flooring to windows needs proper maintenance at all times. But why must cleaning carpets cost so much? We completely understand this dilemma because Zerorez® was created to solve this problem!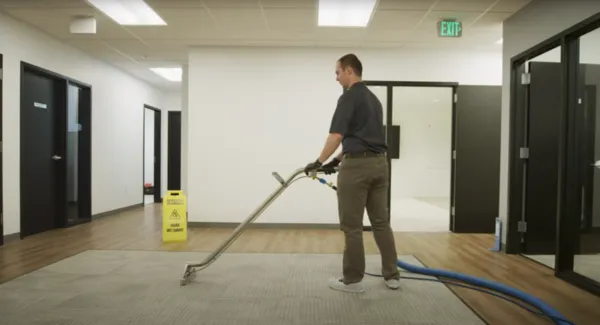 COMMERCIAL CLEANING POST COVID-19
Zerorez® is ready to help you provide your employees a clean and safe work environment as they return to the office. We are Platinum rated by the Carpet and Rug Institute which is the highest rating possible and we earned it using our patented process to remove more contaminants from carpet than any other carpet cleaner. Not only is our cleaning process rated the highest, but we do it leaving Zero Residue®, so your carpets stay cleaner longer. Removing these contaminants is the first step the CDC recommends in order to disinfect your carpet
EPA Guidelines
The EPA gives specific guidance on how to properly disinfect an area. They state that incorrectly using a disinfectant may kill the weaker germs, but the more resistant germs survive.


Disinfecting a dirty surface
Wiping or rinsing the disinfectant off the surface before the recommended dwell(contact) time is over
Not using the recommended dilution ratio (not concentrated enough)
Using a combination cleaner/disinfectant without first removing the visible dirt from the surface.
These are easy cleaning mistakes to make for a well meaning person but the consequences for cleaning incorrectly can lead to incomplete disinfection. Carpet is a porous surface and can easily hold on to soil and germs, making disinfecting much less effective. At Zerorez®, we are the experts in cleaning and an essential step towards getting your office clean.
Whether it is a big project or small project, we will provide you with the free on-site estimate when requested. Our maintenance plans make sure that you are getting the best service for the best price.
We work around your schedule. When your office is closed, we clean! Whether it is 5pm or 11pm, it doesn't matter. We will start working once the building is vacant and ensure that it is ready to go before the start of business the next day.
Our Story
The idea for Zerorez® was conceived by co-founders Gaylord Karren and John Hopkins in the early 90s while they were managing several thousand rental properties in Houston and Dallas, Texas.
Second only to payroll, the largest expense each month was the cost of replacing carpets. They had over 2.5 million square feet of carpet in their properties, and every time a tenant moved out, they needed to clean the carpets for the next tenants; but no carpet cleaner was able to clean the carpets well enough to "keep them on the ground." So, Gaylord and John were spending over $100,000 every month to replace carpets.
"There must be a better way," they thought, so they dug in and started researching. Come to find out, there were two major problems: the products used to "clean" with, and the ineffective removal methods.
Think about it: soaps attract and hold on to dirt—like dirt magnets—and you don't get ALL of that soapy residue out of the carpets, it continues attracting dirt, which causes the carpets to get dirtier faster, and eventually wear out.
Armed with this information, and ideas gleaned from techniques used in the oil and gas industry, Gaylord and John developed the Zerorez Cleaning Process™, designed to clean carpets and other surfaces the right way.
Green Cleaning
Our commercial floor waxing services, commercial tile and grout cleaning, vinyl cleaning, commercial carpet cleaning, and all of our other commercial cleaning services are 100% non-toxic, green carpet cleaning services. The Zerorez® process is much different from traditional commercial cleaning companies because we use no harsh chemicals or detergents to clean your surfaces - just water! On top of that, our drying times are incredible with the fast 2x faster than competitors. You'll be sure to experience The Zerorez Difference® for yourself when choosing an environmentally friendly cleaner like us!
Commercial Carpet Cleaning Indianapolis - Is Commercial Carpet Replacement in your Future?

Professional commercial carpet cleaning is essential for keeping your carpets in good shape. Going long periods of time without getting a commercial cleaning will fill your carpets with all kinds of nasties.
Our office carpet cleaning services are different from the services offered by many traditional commercial cleaning companies.
Indianapolis Commercial Office Cleaning Services
Indianapolis Commercial Office Cleaning Services Zerorez® Indianapolis offers revolutionary commercial carpet cleaning, vinyl floor cleaning, hardwood floor waxing, Commercial upholstery cleaning, commercial tile cleaning, commercial grout cleaning, cubicle cleaning service, and small office cleaning services that improve your workspaces and increase the life of carpets in business environments. It does this with zero soap, detergents, or harsh chemicals - just an alkaline water solution for removing germs without disrupting surface texture! Think about how much more efficient it would be if you had Zerorez®'s patented commercial soft floor care system at every location where employees gather? Your office becomes cleaner faster because there are no soapy residues on surfaces which can cause allergies, among other unwanted effects. Plus, Zerorez® enables greater productivity since less time is spent cleaning each day than before using traditional methods alone. In addition, our patent-pending technology helps cleanliness stay high even after visits from many employees and customers.
Not all commercial carpet cleaning services are equal. Zerorez® doesn't just move dirt around - we actually remove it. That's why the nation's largest carpet manufacturer calls us to solve their toughest cleaning challenges. You, too, can count on Zerorez®.