Thanks for printing! Don't forget to come back to Zerorez Carpet & Upholstery Cleaning for fresh content!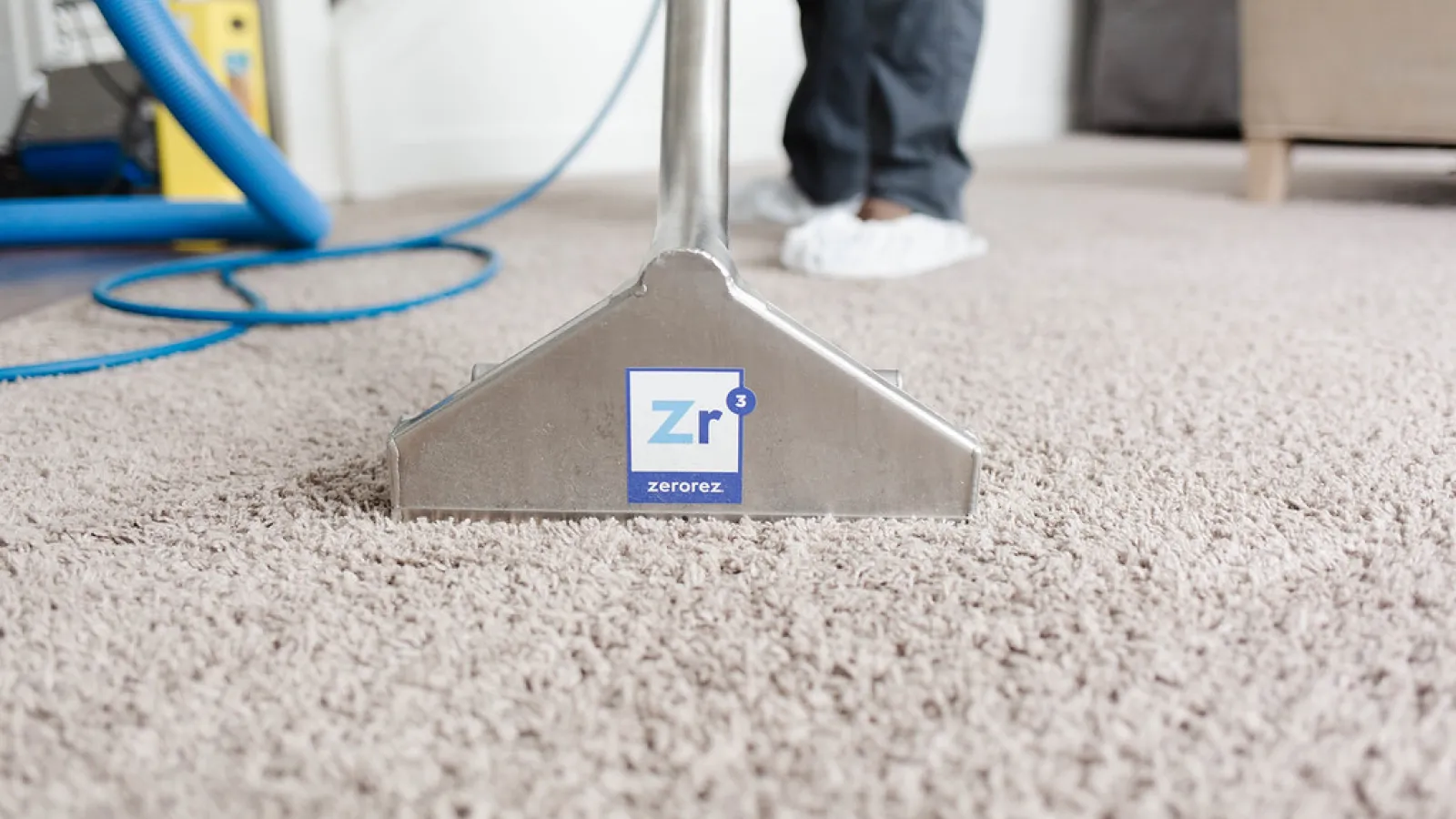 Carpet Cleaning
Zerorez® provides more than a quick clean; our revolutionary green process offers a protection sure to give confidence in your investment.
Zerorez and Competitor Carpet Cleaning Comparison Interactive Feature
Carpet Cleaned using Zerorez® Zr Clean™️
Carpet Cleaned using Detergents & Shampoos
1 Month
2 Months
3 Months
4 Months
5 Months
6 Months
Residue left behind by detergents and shampoos cause dirt to quickly accumulate over time.
No Hassle Guarantee
Zerorez® wants to put you at ease. We are so confident in our process that we guarantee results. When we arrive, we'll clean a small area of carpet for you. If you are not 100% satisfied with what you see, we'll leave with no questions unanswered and no charge to you. If our cleaning does not meet your expectations, contact a Customer Care Representative within 30 days and Zerorez® will re-service your home at no additional charge!
Cuddles Stay, Odors Go
Furry friends add fun to any home—but they can also add unwanted aromas. Traditional carpet cleaners rely on perfumes or deodorizers that add residue and work only temporarily to mask these odors.

Zerorez® Indianapolis uses a non-toxic, pre-spray that destroys unpleasant odors instead of just hiding them. Then, we clean the area with our Zr Clean™️ solution. Finally, we make sure to not leave anything behind that will harm your pets—or linger in your nostrils.
Spills and Stains - Solved for Good
Deep stains in carpet or upholstery can ruin the look of a room. It's tempting to think that it takes harsh detergents or strong chemicals to get stains out. However, the truth is detergents always leave behind a soapy residue—and soapy residue actually attracts dirt and oil towards the fibers of your carpet or furniture. Furthermore, some chemicals can damage fine fabrics. Zerorez® cleaning doesn't permeate the carpet or pull stains from the padding, leaving your carpet without the appearance of old stains.

Zerorez® offers a better, more permanent answer. Our patented Zr Clean™️ solution leaves behind zero residue®—meaning your carpet and upholstery stay cleaner, longer.
Thorough Care for Your Thoroughfares
It's easy to see discoloration in the high-traffic areas of many carpets. However, discoloration is often the first thing to reappear after a traditional carpet cleaning. Conventional cleaners use a lot of high-temperature water even though high-temperature water can damage a carpet's backing and seep underneath carpet. When carpet is exposed to footsteps, stains rise up from the pad beneath.

Zerorez®'s low-pressure cleaning system gets to the root of your carpet's fibers, but does not penetrate the backing. We also use about half the water other cleaners do, which means your carpet will be dry and ready to stand up to normal wear-and-tear just hours after a carpet cleaning.
Protect your Investment between Zerorez® cleanings!
Zerorez® Premium Fiber Protector keeps your carpet and upholstery cleaner and stain-free longer. By re-applying after every Zerorez® cleaning, you can extend the life of your home's furnishings and protects your investment.